'We celebrate success': Australian Open boss hopes fans will treat Djokovic fairly
Australian Open chief executive Craig Tiley hopes the country's tennis fans will treat polarising champion Novak Djokovic fairly when he returns to Melbourne in January.
The Department of Home Affairs confirmed last week Djokovic had received a temporary visa, meaning he will compete in the 2023 Australian Open, after being placed in detention and deported last January over his vaccination stance.
Until last week's development, there was a risk the 21-time grand slam champion would be banned from Australia for three years as a result of those events.
Djokovic will try to win a record-extending 10th Australian Open men's singles title. He proved he remains a significant on-court force when on Sunday he matched Roger Federer's record feat of winning the ATP Finals for a sixth time.
But how Australians will respond to Djokovic when he arrives remains a fascinating unknown, given the significant backlash he faced mere months ago.
"I have a great deal of confidence in the Australian sporting public and our crowds – we're a very fair crowd. We celebrate success, and we reward that," Tiley said.
"Of course, we support the Aussies, and we want the Aussies to do well. What a great year we had with Ash [Barty] winning.
"I think the Australian public will enjoy coming to the Australian Open and I think they will welcome all players in a fair way."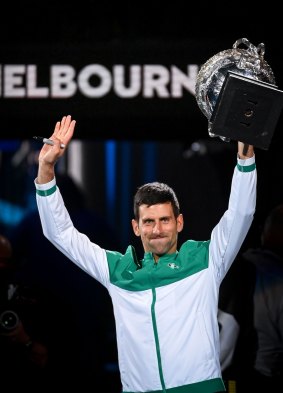 Tiley was also widely criticised for his role in how the Djokovic saga played out but said on Thursday he and his Tennis Australia team did their "best".
"The first thing is we're always focused on tomorrow, and we're running a massive event, and it is the largest annual sporting event in the southern hemisphere and the largest event in Australia," he said.
"And at that time of year, the largest event in the world, so we're very proud of that fact – not even just the people who come but the people who watch.
"Everyone went through a difficult time during COVID ... We were able to put the event on both times [in 2021 and 2022] and the support of the Victorian government was magnificent, and we showcased sport to the world.
"We were the first to do it both times, globally, and so I look back at it more with pride ... Yes, there were many things that happened around it, but it was not to be unexpected because it was an environment none of us had ever experienced.
"When we look back – I think we did our best and ... I can guarantee you that the same thing will happen today and the same thing will happen tomorrow."
Djokovic's decision not to get vaccinated against COVID-19 meant he could not play in certain events this year – most notably the Australian and US Opens – and cost him the world No.1 ranking, which teenage superstar Carlos Alcaraz now holds.
Alcaraz is among a major young uprising in the sport that has Tiley predicting a changing of the guard at next year's event.
"I think this could be the year … I've been around long enough to know that the Australian Open unearths and uncovers the greats of the future," he said.
"If you look at [Djokovic's] form – you can argue he's the best player in the world. He's an unbelievable tennis player and this is the place he's won the most … He'll be very hungry to not let the young guns on the men's side take the title from him."
Tiley also hailed Australia's Billie Jean King Cup and Davis Cup success in the past fortnight, with Alex de Minaur to lead the nation into a semi-final clash with Croatia on Saturday from 1am AEDT.
News, results and expert analysis from the weekend of sport sent every Monday. Sign up for our Sport newsletter.