Labor and teals target Liberals in marginal seats in campaign's final days
Explore more of our in-depth coverage of the seat of Hawthorn this state election.
See all 18 stories.
Labor is using the final days of the state election campaign to pour thousands of dollars into social media ads targeting Liberal candidates in seats it is unlikely to win but could go to teals.
And teal candidates in three key seats have released their own polling, focused solely on the logging of native forests, in a bid to highlight the Coalition's environmental credentials.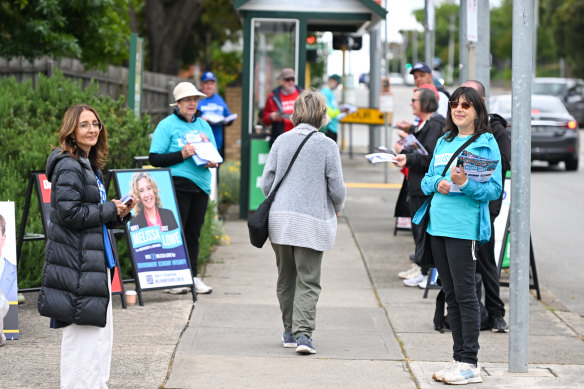 Over the past week, Labor has spent almost $10,000 on Facebook ads targeting the electorates of Hawthorn, Kew and Brighton – none of which it expects to win – and Caulfield, where its candidate Lior Harel is an outside chance of beating deputy state Liberal leader David Southwick.
The social media spend comes as an advertising ban on political advertising on radio and television kicked in on Thursday morning.
Labor's Facebook ads targeting Liberal candidates in Hawthorn, Kew, Caulfield and Brighton have reached 830,000 people online since they were launched on Saturday, according to Facebook's ad library.
Hawthorn is held by Labor MP John Kennedy but the ALP has put minimal resources into retaining the seat. Kennedy won in 2018 by just 330 votes out of 45,000 and few pundits expect him to win.
Kennedy, 74, caught COVID-19 on the eve of pre-polling opening last week.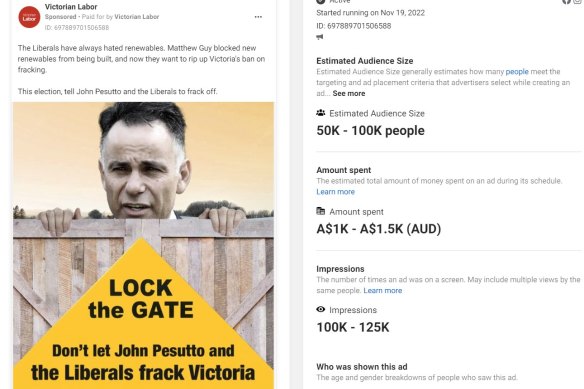 He has been less visible than his two rivals, Liberal John Pesutto and teal independent Melissa Lowe, who have been almost constantly at the booths open in Hawthorn and Camberwell, seeking support from those casting their vote before Saturday.
Lowe views Pesutto as her main rival and has targeted his environmental credentials, distributing flyers this week that tell Hawthorn voters, "A vote for the Liberal Party is a vote to log forests".
Lowe was a Labor Party member for five years but quit the party in the 1990s.
"I was a trade union organiser employed by the ACTU," Lowe told The Age in August.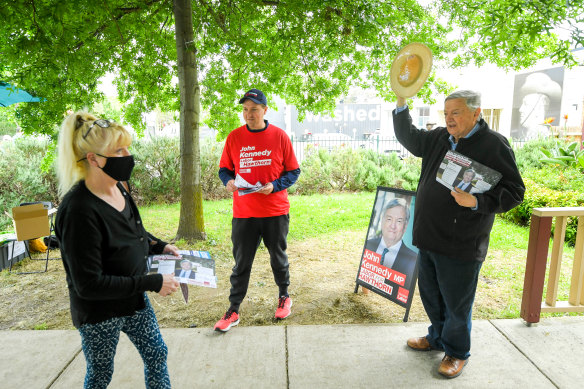 "That didn't end very well for me. I became pregnant and was terminated whilst on maternity leave."
At the same time Labor targets Liberals in marginal seats independents are hoping to win, the major backer of teal candidates, Climate 200, has released polling on forestry.
The Simon Holmes a Court-founded fundraising vehicle commissioned the polling to be done in the seats of Hawthorn, Kew and Mornington. Climate 200 is backing candidates in those seats, as well as Nomi Kaltmann in Caulfield.
The polling by consultants Redbridge asked 642 voters about millions of dollars the Victorian government spent last year on state-owned logging company VicForests.
Fifty-two per cent of voters asked whether they approved of the government continuing to "prop up" native forest logging said they strongly disapproved or disapproved, while 51 per cent disapproved or strongly disapproved of VicForests' native forest logging operations.
Pesutto was the MP for the area from 2014 to 2018 and has been running hard to win back the seat since December last year. Lowe said he needed to "break his silence" on when the Liberal Party would end native forest logging.
Pesutto declined to comment when approached for a response to the polling.
But at a candidates' environmental debate earlier in November, Pesutto said he expected the logging of native forests to end by 2024.
"We have to transition out of that and under the current policy settings that is going to happen very soon, in the next couple of years," Pesutto told the forum.
Pesutto has focused, when discussion turns to the environment, on his party's emissions reduction target of 50 per cent by 2030, and the Liberal policy of rebates to install solar panels and batteries of up to $4400 for homeowners.
Both Lowe and teal independent in Kew Sophie Torney have campaigned against their Liberal opponents on environmental issues.
But unlike the successful teal tactic at May's federal election, the move has been blunted somewhat because, unlike the former Morrison government, the Liberals are not in power at the state level.
The Age is covering three key marginal seats in detail at this election – Hawthorn, Melton and Richmond – and for each seat has looked at policies each candidate has put forward.
The Morning Edition newsletter is our guide to the day's most important and interesting stories, analysis and insights. Sign up here.