Scheme needed to cut insurance premiums amid 'market failures': Consumer lobby
Australia needs a countrywide scheme to cut the cost of insurance premiums for homes at risk of escalating natural disasters, says the national consumers' lobby as it warns that flood, fire and storm-surge protection is unaffordable or unavailable for many.
The Australian Consumers Insurance Lobby told a federal government inquiry there was a risk of widespread market failure for natural disaster insurance and it should look at expanding the current $10 billion Australian Reinsurance Pool Corporation. Known as the cyclone pool, the scheme was set up to lower soaring premiums for cyclone cover in northern Australia.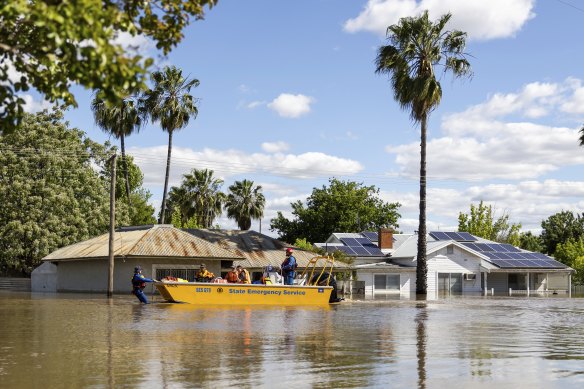 "We believe all Australians and businesses should have access to affordable insurance. When the private insurance market can no longer offer this, we believe the [cyclone pool] should be the government's way of intervening in market failures," the lobby group's chairman Tyrone Shandiman said in his submission.
His call follows CSIRO's warning on Wednesday that Australia's weather will become even more chaotic in coming years and decades, including more heatwaves and bushfires, increasingly intense cyclones and bursts of heavier rainfall with higher risk of flooding.
Shandiman said flood insurance had become unaffordable in high-risk areas – including Lismore and parts of the NSW Central West and around Shepparton in Victoria – and some householders "simply cannot get flood cover" because insurers do not offer it.
He said damage from storm surges, when the ocean inundates low-lying coastal areas, is "one of the most difficult covers to obtain" while many in bushfire-prone areas have copped "excessively high premium increases since the 2019-2020" Black Summer disaster.
Residents in Eugowra, NSW, which was devastated by flooding this month, were largely uninsured because premiums had hit $40,000 a year.
The $10 billion cyclone pool began operating in June, underwriting property insurance for up to 3.3 million homes and 220,000 small businesses for cyclone and related flood damage.
The former Morrison government, which set up the scheme, said it would cut household insurance bills by 48 per cent but the agency that runs the scheme told the inquiry premiums had only reduced about 10 per cent to date.
Emergency Management Minister Murray Watt has committed to spend up to $200 million a year over five years through the Disaster Mitigation Fund on infrastructure and other works to reduce loss of lives and property from natural disasters, such as levees, floodways, seawalls and firebreaks.
He told the Insurance Council earlier this month that the investment in disaster mitigation would reduce economic losses from natural disasters and he would demand its members reduce their premiums.
Watt cited the example of Roma, Queensland, a flood-prone town where a $15 million levee upstream "protected 483 homes and 75 businesses [and] reduced insurance premiums by an average of 34 per cent".
Mike Foley
is the climate and energy correspondent for The Age and The Sydney Morning Herald.
Connect via Twitter or email.