Why there's been two extra games worth of action at the World Cup
Doha: They say time is money. So, it kind of makes sense that, of all places, it's in this crazy rich Middle Eastern enclave full of contradictions that FIFA is finally sorting out one of the sport's longest-standing but least-discussed issues.
If you've sensed something has been amiss with the clock at this World Cup, you're not hallucinating due to dodgy sleeping patterns – you're onto something.
At the end of each half of any normal game, fourth officials put up their board to signify how much stoppage time is about to be played. No matter how many delays have taken place, and how much duration they have chewed up, it's generally no more than five minutes, meaning 'ball-in-play' time is dramatically reduced.
It rewards time-wasters, divers and injury-milkers, at the expense of teams chasing leads or actually trying to play positive football.
But in Qatar, a philosophical change from FIFA – a rare welcome one from them – has finally addressed this bugbear, and it's had an immediate impact which could set a new standard for competitions around the world.
Referees are being directed to properly calculate the number of minutes in added time, instead of dialling it in and blindly picking a number usually somewhere between one and five, even if that means pushing games well past 90 minutes. FIFA wants all "unnatural lost time" to be found again.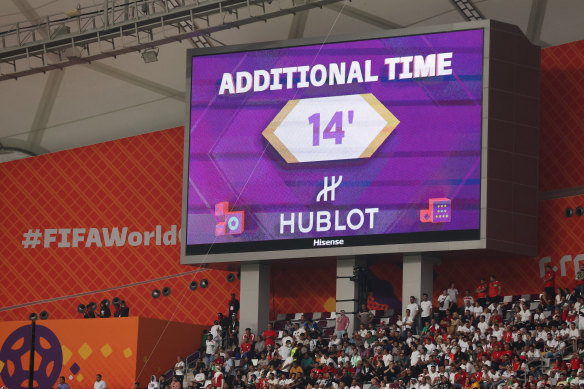 At this World Cup there has already been an extra 182 minutes played in the first 12 matches – the equivalent of two extra games.
England's rout of Iran broke records on this front with the longest match ever played at the World Cup, clocking 117 minutes, including 14 minutes, eight seconds of stoppage time in the first half, and 13 minutes, eight seconds in the second – very nearly the same duration of a knockout-round match that goes to extra time.
"Think of a match where in a half there are three goals," legendary former Italian official and FIFA referees committee chairman Pierluigi Collina said last week at a pre-World Cup briefing.
"The celebration normally takes one to one-and-a-half minutes. With three goals, basically you lose five, six minutes. So what we really want to do is to accurately calculate the time to be added. The purpose is to offer more show to those watching the World Cup.
"What we want to avoid is to have a match lasting 42, 43, 44, 45 minutes of active play. This is not acceptable."
To what extent it's working, though, remains to be seen. At the last World Cup in Russia, according to one statistical analysis, the ball was only in play for between 52 and 58 minutes of the allotted 90 – but across the first nine games in Qatar, only two matches went past 60 minutes of ball-in-play time.
There have also been some lengthy breaks at this World Cup already – for genuine reasons, like Lucas Hernandez's knee injury in France's 4-1 win over Australia, and when Saudi defender Yasser Al-Shahrani was poleaxed by his own goalkeeper's knee, as well as VAR decisions – which have skewed the numbers and, thus, perceptions of how well it's working so far.
IFAB, football's lawmaking body, has rejected previous proposals for football to use a 60-minute stop-start timer, like in basketball.